Unlock Your Firm's Potential with the Power of Accounting Automation
DOKKA for Accountants and Bookkeepers
Scale and streamline your business with automated accounting processes



DOKKA Accounting Automation solution for accountants and bookkeepers accelerates your manual and repetitive processes to provide efficient turnaround time and effective management of your books.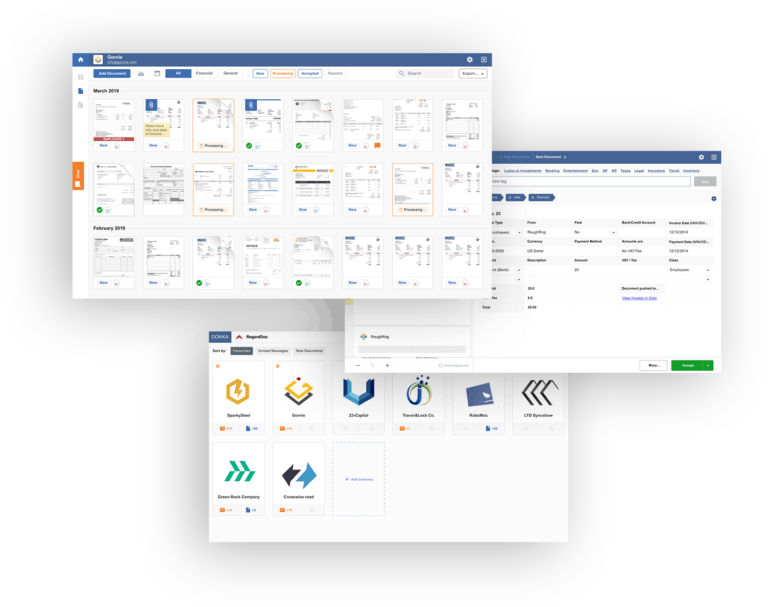 DOKKA's Key Benefits for Your Firm
Capture Data
Accelerate efficiency and productivity by converting original documents into key data automatically without manual entry, and with improved data accuracy.
Work Anytime, Anywhere
Upload, view and edit cloud content remotely. Easily gain access to share and comment on files and documents from any computer or mobile device. This brings agility and WFH capabilities to the accounting and bookkeeping industry.
Fast Data Retrieval
Unlike the old days, to retrieve a document or review a file, all you need to do is 'Google like' search it in the document management platform. DOKKA also enables you to provide access to your clients to review their documents over the cloud based document management system.
Secure Digital Archive
Another major burden on firms is the need to store paper records for 7-10 years (depending on local regulations). With DOKKA compliance digital archive you can easily store your clients' financial documents as digital copies instead of paper files, save office space and stay worry free knowing everything is backed up and safe.
Real-time Integrations
With DOKKA's full integration out of the box to your accounting software, you will never have to copy information from one space to the next, the platform will automatically create the relevant data entry for you and will also trigger the relevant workflow if needed.
Drive Your Firm to the Digital Transformation Era With Accounting Automation Powered by AI