The power of DOKKA is the speed and learning of the Artificial Intelligence (the A.I.). The beauty of DOKKA is the simple interface. The flexibility of DOKKA is the ongoing development, adding new features and options. Xero saw this, which is why…
DOKKA is Officially Listed on the Xero Marketplace
We offer a full integration with Xero. They liked it so much that we joined the ranks of their Add-on Partners. You can see the listing here. We're not stopping there. The integration is getting better all the time. Keep reading the blog to read about the new perks as they're added to the integration.
Incidentally, we are also partners with QuickBooks Online. The full listing is coming, but we already offer a full integration and support.
Document Preview in more places
If you've seen DOKKA, you know that you can preview documents before opening the Bookkeeping Entry. If you haven't seen DOKKA, don't take our word for it. Book an online demo and see for yourself. DOKKA does pre-accounting AND document management. In the document management dept. we allow you to link documents. Now you can view previews of the linked documents screen as well as the documents in the main Workspace.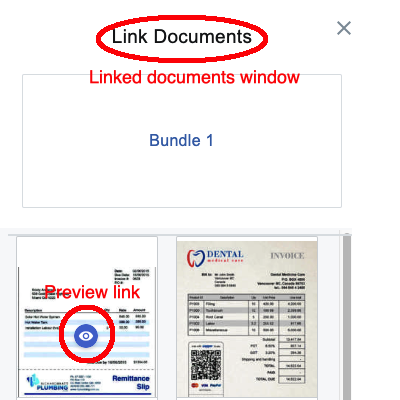 Payment Configurations
By now you all know that DOKKA doesn't require setting up rules for data extraction. You simply upload documents and DOKKA extracts the relevant financial data. If DOKKA pulls the wrong data you correct it by dragging the correct bit of the document into the applicable field. DOKKA learns on the job how to pull in the correct data (although we tend to be pretty good right from the beginning).
However, as you'll see, there are settings that you can preset in the integrations section of the settings screen. Now you can also set the payment date settings. Are most invoices due in 15 days? How about 60? Maybe everything is already paid and the Payment Date should be the same as the Invoice Date. You can set that in advance. If a document is different you can easily modify it.
The pictures show you how to set this for both QuickBooks and Xero.
That's all the big news for now. Stay tuned. Thee are more big announcements coming up!