New technology partner provides advanced, intuitive and automated financial document processing solutions for Priority ERP customers
Priority Software Ltd., a leading global provider of business management solutions, today announced the expansion of its ISV network, signing a technology agreement with DOKKA, a global provider of machine learning based document processing solutions to help bookkeepers, accountants, and organizations with internal finance departments, accelerate their documentation and data entry workflow. This new offering will enable Priority ERP customers to simplify, automate, and streamline their financial document input processes, and increase efficiency and productivity.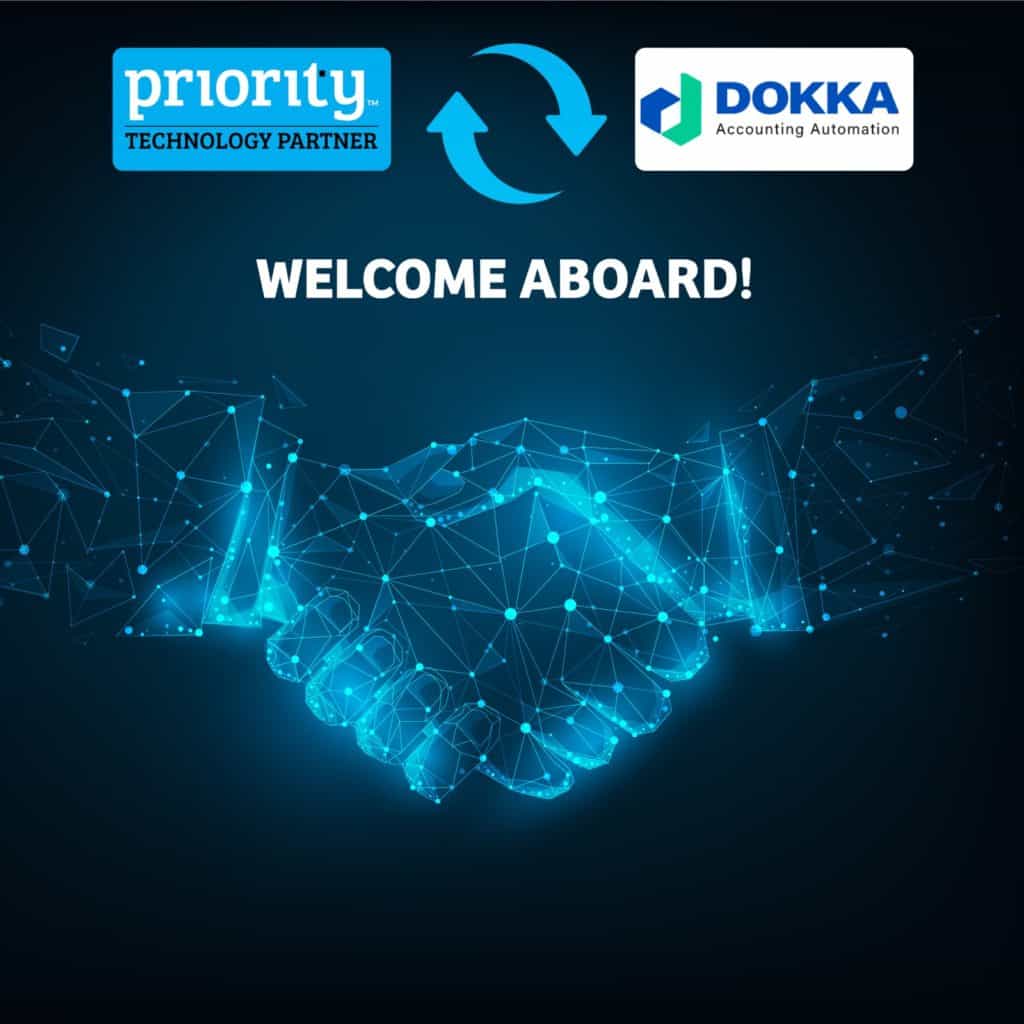 Powered by a robust OCR engine and built-in AI functionality, DOKKA fully automates the data processing side of bookkeeping, by extracting data from business documents, such as invoices, and creating seamless workflows. Priority customers simply send sales invoices, purchase invoices, receipts and bank statements directly to DOKKA. Documents are analyzed in just seconds, and automatically updated in Priority with the click of a button. By incorporating a cloud-based web platform, full mobile access, and a convenient 'chat' option, DOKKA creates a 'smart' financial document management system, saving bookkeepers and accountants valuable time, resources, and costs.
A leading ERP solution provider, Priority Software thrives on innovation, delivering the tools and functionality to meet the unique needs of its customers, and is now proud to offer customers the ability to automate, optimize and manage their financial documentation processes, with fast and easy upload to Priority ERP. Powered by flexibility, system openness and mobility tools, Priority believes that ERP systems should and can be easier to use, easier to implement and easier to maintain and enhance. Priority supports accounting processes and workflows by delivering the necessary tools to achieve this flexibility, including Business Process Management (BPM), mobile application generator, user-level personalization, business rules generator, and more.
Avi Troub, VP International Sales & Channel at Priority Software, said, "We are pleased to welcome the DOKKA team to Priority's global technology partner community. Priority customers are primed and ready to onboard DOKKA's tools that we're confident will bring great added-value to their business operations. Priority's ability to provide a smart and intuitive solution to boost customers' efficiency and productivity, will help enrich the user experience, and in turn, help us grow our customer base around the world."
"We are excited about our new technology partnership with Priority and the opportunity to serve Priority ERP customers with a dedicated document management solution," said Emil Zak, CEO & Founder at DOKKA. "We believe that Priority customers will benefit from this new integration offering, and that once on board, it will prompt more organizations to implement DOKKA into their workflow, and boost their Priority user experience. This is indeed further testament of Priority ERP's system openness and flexibility, and we look forward to a mutually beneficial partnership today, and well into the future."
About DOKKA
A Priority Software Technology Partner, DOKKA Accounting Automation provides innovative solutions to help bookkeepers, accountants, and organizations with internal finance departments, effectively manage their documentation workflow, and enable seamless collaboration between colleagues, bookkeepers, and auditors. A cloud-based web platform with easy mobile access, DOKKA is powered by a robust OCR engine and integrated AI functionality, to automate and optimize documentation generation processes, saving companies valuable time, resources, and costs. A VC-funded company, with teams in multiple locations, including the US, UK, and Canada, DOKKA's current geographic focus is on the English-speaking world, including the US, UK, Canada, Australia, New Zealand, and South Africa. As the software is language-agnostic and can work globally, DOKKA's customer base also includes Dubai, Israel, Vietnam, and Romania. Visit www.dokka.com, and for detailed product information, see Priority Market.