The saying is used often – work smarter, not harder – but what does this actually mean? Several years ago I was fortunate enough to be able to attend a workshop for improved workflow productivity that was very refreshing and interesting.
Looking at the usual methods a company takes when they have an urgent deadline. Generally, if you need to meet a target and it doesn't look like that is going to happen. The first go-to move is to ensure employees stay or work longer hours, right? Alternatively, the next approach is usually hiring more people to get the job done. Although several negative results are stemming from these actions, including dissatisfied employees and finding the time to upskill new hires, the main result is an increase in costs. Unnecessary costs are definitely something that no business wants or needs.
In an article by Karola Karlson for Scoro, a work management system, she shares an infographic showing how much time in a day is not spent working. Between meetings, emails, coffee breaks and even searching for lost documents, the average employee only works 3 days a week.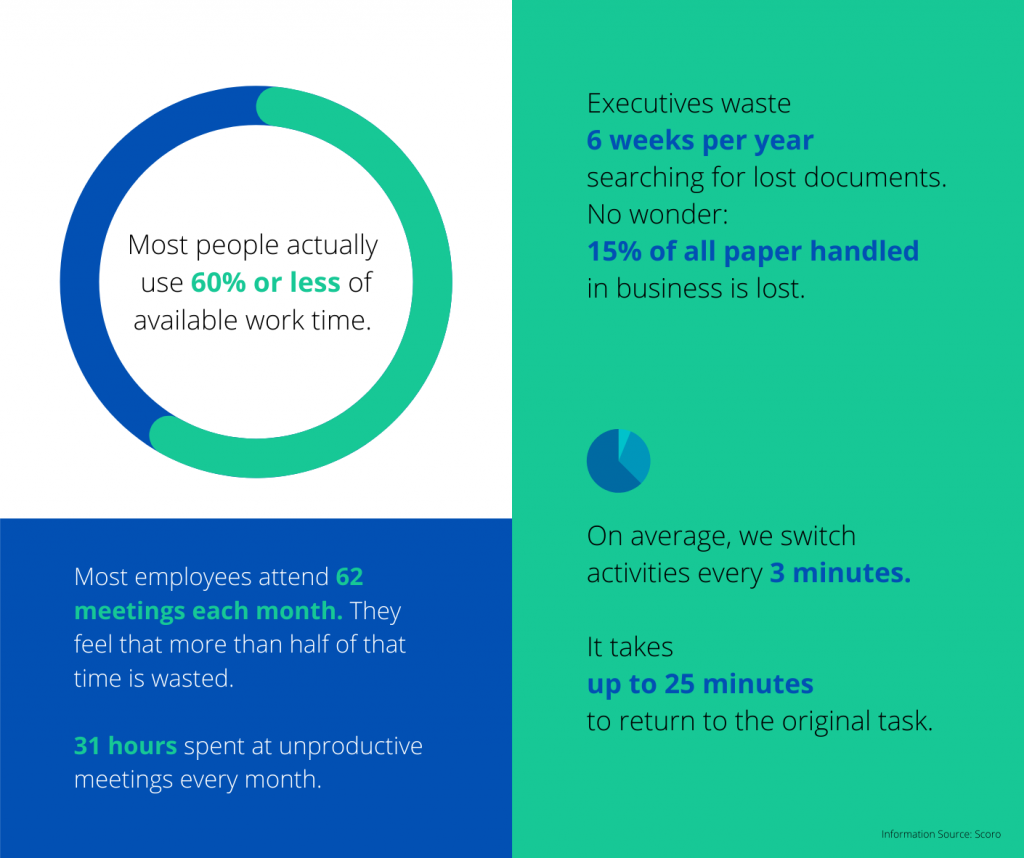 This all means one thing, it is essential to work smarter. Work smarter to meet deadlines without increasing costs. Work smarter to get the most out of your day.
The key word to work smarter is productivity
Productivity is measured by the rate of output, per unit of input. That is, how effective your effort is to produce a given outcome. Job satisfaction alone is a reason for an employee to want to be productive. Achieving results from work is rewarding to both the employee and the overall company. So the issue really comes down to how to achieve that level of operational efficiency and effectiveness that ensures productivity. The answer again, work smarter.
While many tips exist to improve productivity, from avoiding task switching to attending fewer meetings in a day, these require time and effort. With today's technological advancements, it does not require much energy to work smarter and be more effective.
Productivity ultimately involves the following:
Systematic processes:
People are creatures of habit. Routines generally allow us to do something a lot more efficiently without much thought. Therefore the ability provided with today's technology to outline processes and remove some repetitive chaos offers an automated and structured approach to your work allowing you to be more effective.
In an article by Tony Schwartz, the president and CEO of The Energy Project, "the counterintuitive secret to getting things done is to make them more automatic, so they require less energy."
Effective time management:
As we have seen above, multiple factors influence time, and working longer hours is not always the right solution. In fact, a study published by John Pencavel of Stanford University shows that
"research that attempts to quantify the relationship between hours worked and productivity found that employee output falls sharply after a 50-hour work-week, and falls off a cliff after 55 hours — so much so that someone who puts in 70 hours produces nothing more with those extra 15 hours."
Utilizing the right technological tools, with your streamlined processes, can easily save you time to be more productive.
Control over your work:
An obvious result of accelerating your manual and repetitive processes and managing your turnaround time means you already have more control. You can now work on important tasks without an overwhelming workload. Smart technology allows you to take that a step further and gain even more power over your work.
In summary
The key to accelerated productivity is to work smarter, not harder. Working smarter saves precious time and energy and puts you at the forefront of your work.
The adoption of automation software has undeniably proven to be one of the most valuable steps a business leader can take to evolve their business and remain competitive in the modern marketplace. DOKKA's powerful automation technology is designed to make your organization as effective as possible.
Click here to find out how to be more productive.