5 recent automation statistics that have grabbed our attention.
"Time is Money" – In today's fast-paced era of digitization, businesses are in a constant game of optimizing their workflow and manual task through automation of processes. The most important fact here is that automation is not merely a need but is becoming a must for any successful workplace. There is no doubt, when looking at the latest trends and automation statistics, that automation saves time and helps eliminate human errors by multiplying the efficiency of tasks multi-folds.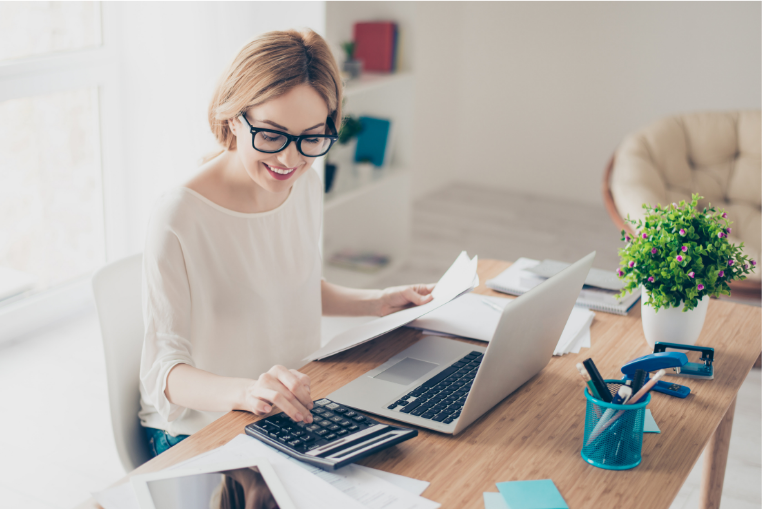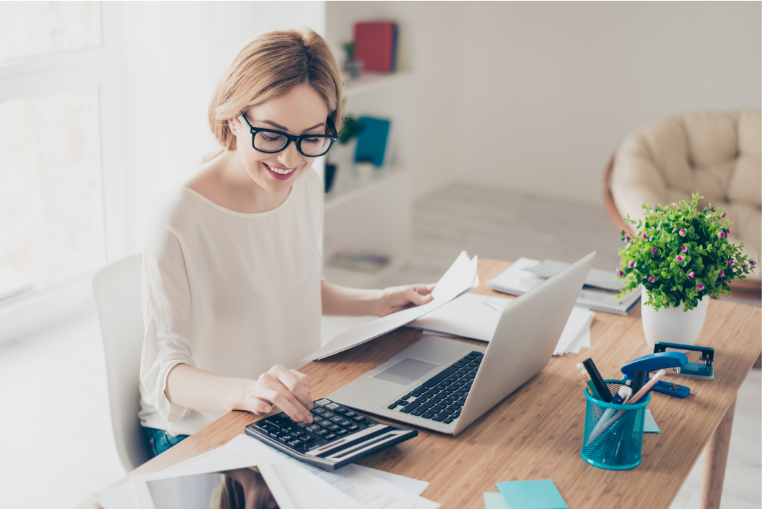 The incredible thing is observing and absorbing the latest automation statistics in 2021 and tracking how promptly corporations are adapting to an automation workflow day after day. Particularly in the accounting and finance sectors, many businesses have already adopted automation software and tools. The reason is that accounting automation is revolutionizing itself as determined technology for producing error-free, punctual, and fast outputs much more readily.
Progressively complex automation statistics demonstrate how organizations are enabled to automate practically any sort of parallel business measure. From ERP and CRM systems to customer support and HR. Moreover, further developed AI and machine learning, with big data and RPA capabilities empower invigorating industry-explicit vertical business process automation of BPA projects. It is, therefore, no surprise that the automation accounting piece of the pie has served as a consistent income source throughout the long term. Indeed, it appears to be that an ever-increasing number of accountants are equipping themselves towards embracing innovation to stay cutthroat or to fulfill customer requests.
Looking at the Numbers
Now let us have a look at some eye-catching statistics of how the marketplace is steadily shifting onto business automation practices.
Key Takeaways:
Automation efforts are consistently increasing in all sectors
Accounting automation is saving a substantial sum of money while providing better service
Remote work is showing higher levels of productivity and the potential for it is associated with automation of tasks
Process automation is helping companies around the world reallocate time from manual tasks to strategic initiatives (salesforce)
Automation of processes only assists in focusing efforts on more meaningful human skills and should be embraced
(1) Around 31% of enterprises have completely automated at least one operation or process. —McKinsey
In these McKinsey 2020 findings, they identified that 66% of respondents were increasing automation efforts. The primary focus is on task automation including RPA, followed closely with the adoption of digitization such as image recognition tools including OCR.
(2) Accounts payable automation software can save a company 80% per invoice. —Institute of Finance & Management
This is truly a significant saving. Consider the number of invoices that need handling and that it can require substantial time when processed manually. There is a lot of expected investment in both time and money.
In staying on the topic of accounting processes, 54% of accountants have told Sage in their 2020 Practice of Now Report, that the latest technology assists them in providing faster service and 43% believe the integration of technology has already made them more productive.
A minor takeaway from the latest automation statistics in this space is that clients are becoming more demanding. The expectations of these companies and individuals are a driving force for automation and why accountants believe it will benefit them. While smaller firms are not as motivated, there is still an increased percentage who understand the need to invest in some form of technology.
(3) Over 80% of business heads report advancing and speeding up work process automation and extending their application of remote work. —World Economic Forum
In this report, 50% of business managers also advised that they're planning to automate repetitive tasks within their companies.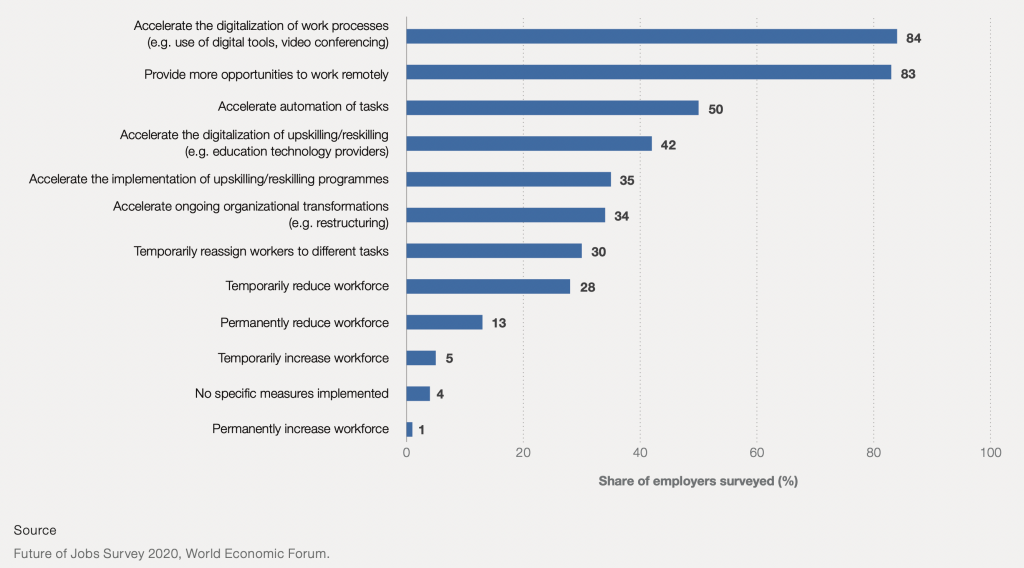 It is clear that due to the pandemic, the potential for remote work has resulted in more meaningful analysis on the topic. It has become clear that remote work is not so much about business type or occupation but more related to tasks. McKinsey's research in what is next for remote work revealed that –
"financial and insurance activities have the highest potential for remote work. Three-quarters of time spent on activities can be done remotely without a loss of productivity. Management, business services, and IT have the next highest potential, all with more than half of employee time spent on activities that could effectively be done remotely. These sectors are characterized by a high share of workers with college degrees or higher."

McKinsey Global Institute – What's next for remote work: An analysis of 2,000 tasks, 800 jobs, and nine countries
(4) 74% of leaders find that automation has helped their employees save at least 11-30% of the time previously spent on manual processes. —salesforce
Almost three-quarters of respondents in this survey have been exposed to the time-saving capabilities of automation. This reduction in time of mundane work has multiple benefits to both employees and businesses alike.
In another report on 'What AI & Automation Really Mean For Work', a compelling number of individuals have found that there are true value gains in the automation of processes and that it can save them hundreds of hours a year. These findings include the following further statistics:
90% of respondents believe there are advantages to automating tasks at their organization, particularly a reduction in manual errors (48%), an increase in the speed at which tasks are completed (42%) and better quality work product (38%).
53% of employees believe they could save up to 2 hours a day by automating tasks; that equates to roughly 20 hours a month. 78% of business leaders believe they could save up to 3 hours a day by automating tasks; that equates to roughly 30 hours a month.
(5) Technology poses the threat of replacing 94% of accountants and auditors. —goremotely
Every evolution in technology has molded the loopholes for creating thefts to human employment. As per the stats, there is a belief that automation can cause job displacement. However, in every case, this has been proven to not be true. Automation undoubtedly serves as a tool to shed the workload and divert employees' energy towards many productive and human tasks.
In the Work Market 2020 In(Sight) Report, the research shows that
"automation will actually free up business leaders and employees to spend more time perfecting work projects (41%) and improving client relationships (33%). Only a small handful of respondents (6% vs. 3% employees) believe their entire job could be automated."

WorkMarket 2020 In(Sight) Report – What AI & Automation Really Mean For Work
Hence, there should be no myths about it. Humans are the developers and cannot be replaced. Job roles may differ but the implementation of the latest digitization technologies will not pose threats.
What these Automation Statistics say for the Future
The automation statistics here are not merely numbers but building points of how vital automation is for every business that aspires to expand and grow in the current market and the future.
Existing without automation is like living in a house without shelter. For some time it has been believed that business process automation is, or even predominantly, for huge organizations. However, the information shows that more modest corporations can use automation in various capacities, from worker planning and executives to call centers and the supply network.
Moreover, if your business has not adopted the latest accounting automation software and automation workflow, it is time to realize the downfalls and potential losses it might bring.