Almost everyone knows that managing accounts payable manually can be exhausting.
Accounts payable workflow automation is a revolutionary way of managing your accounts which eliminates tedious, manual paperwork and frees up time to focus on other important tasks. By automating AP processes, companies can save time and money while ensuring accuracy in financial transactions.
In this blog post we'll explore what accounts payable automation is, how does it work, what are the benefits of automating your processes and the different types of automation available to suit your company's needs.
What Is Accounts Payable (AP) Automation?
Acounts payable automation platform is an essential accounting tool used by businesses of all sizes to streamline and simplify their accounts payable process.
This can include everything from data entry and invoice matching to approval routing and payment processing. With automated solutions, companies can save time and money, improve efficiency and accuracy, and gain better visibility and control over spending.
Accounts payable automation software can reduce manual efforts associated with entering or processing payments, auditing accounts for errors, invoice approval process, generating reports for reconciling accounts and more. It integrates seamlessly with ERP and accounting systems like Netsuite to provide users with the best possible AP solution.
How Does AP Automation Work?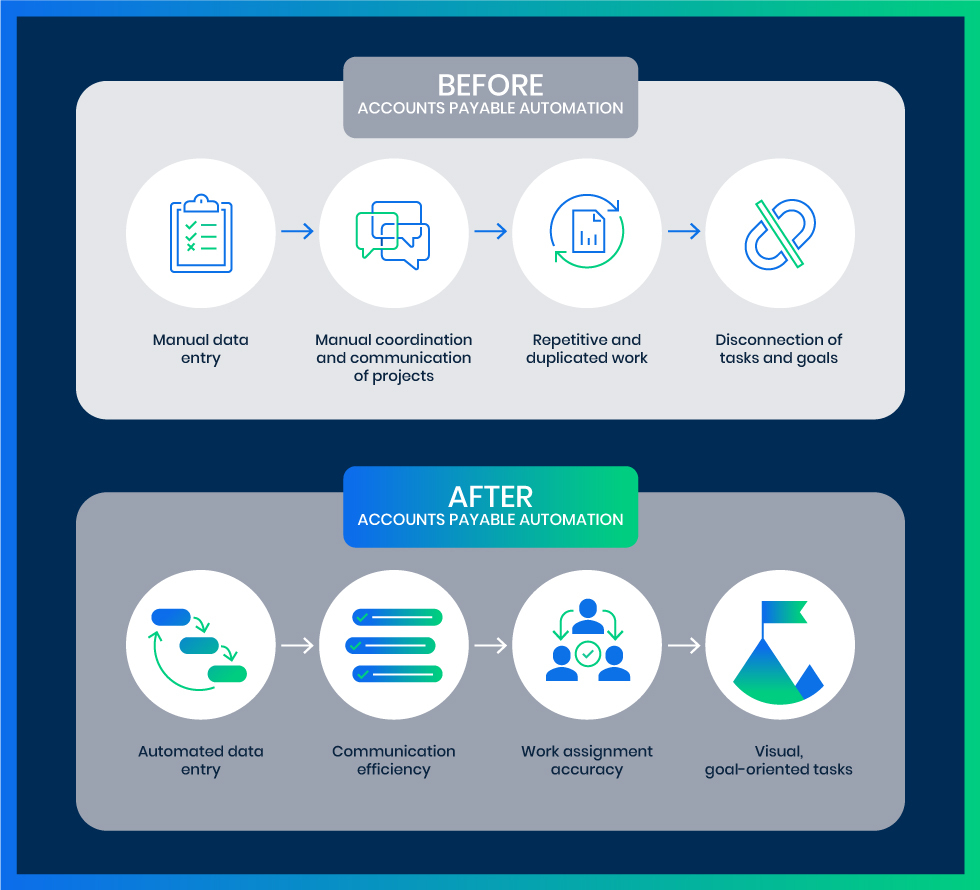 For a second, let's go back to how accounts payable works when you do it completely manually.
First, you would collect invoices from vendors, put the pile of papers in front of you and start typing invoice data into your accounting system. When all that is done you needed to gather approvals for payment from your colleagues or supervisors, process the payment and archive the documents where they belong.
AP automation does the heavy lifting for you. It is powered by software that uses AI to automate your accounts payable processing. The invoice data is fed into the system with ease and precision, allowing AP departments to track, monitor and pay vendors faster and with just few clicks.
In simple words, it works like this: the software inputs invoice data into the system, you review it, and then submit it for processing. This can be as simple as assigning transactions to specific accounts and verifying that they are accurate. Next, approvals must be given by key managers. Once approved, any necessary payments can be made electronically with minimal time and effort required.
Here are the basic features of AP automation:
Automation of data entry and invoice matching
AP automation software can automatically extract data from invoices with high accuracy, fill them in your accounting system and match them to available purchase orders (PO) or delivery receipts.
Automation of approval routing
Collecting approvals for payments is one of the most time-consuming tasks in managing accounts payable. Automated solutions can help to ensure that invoices are approved in a timely manner by automatically routing invoices for approval based on predefined rules.
Automation of payment processing
If you already have data entry and approval workflows set in your system, you can easily use AP automation to process the payments. Software can automatically schedule payments and generate payment files, so you can be sure that all of your invoices are paid on time.
Integration with other systems
Automated AP software can be integrated with other systems, such as enterprise resource planning (ERP), to increase the productivity or to provide a more comprehensive view of your invoice management. It keeps all of your accounts payable data in one place, making it easier to track and monito your spending.
Why To Automate AP?
The automation eliminates the need for lengthy processing times, manual data entry error-checking, and administrative costs. With the right tool in place, AP departments can take advantage of increased preciseness and reduced overhead costs while achieving greater efficiency.
Automating AP is a great way to streamline business operations and make routine accounting tasks faster and easier. It also reduces the potential for errors, like incorrect amounts or paperwork getting lost or misplaced.
Additionally, most of the automated AP solutions are cloud-based and offer the access from anywhere with an internet connection, allowing AP staff to check accounts from the office or on the go.
What Are The Benefits Of AP Automation?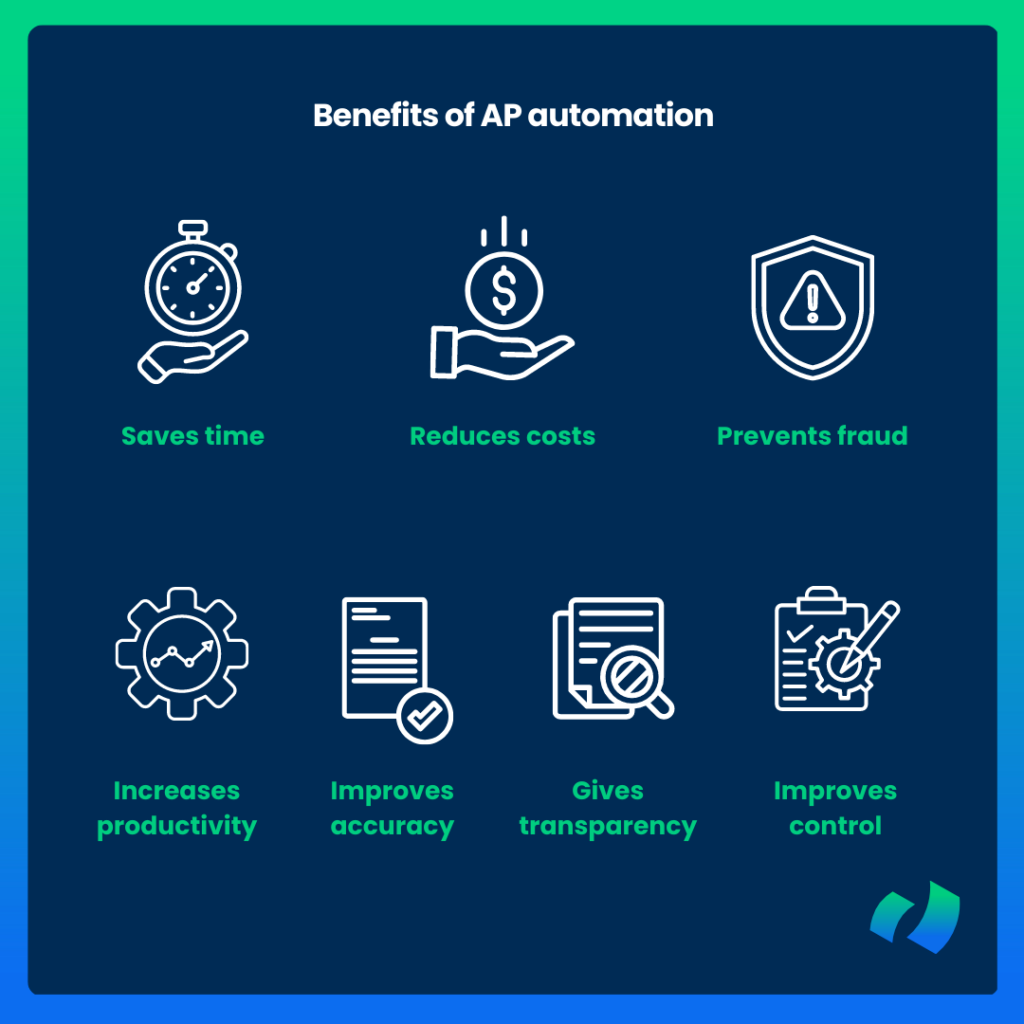 By now you probably have some idea what are the main benefits of automated AP, but we'll list a few most significant:
1. Time and cost savings
First and foremost, it saves enormous amount of time for your AP staff. Manual processes are time-consuming and labor-intensive, so by automating these repetitive data entry and processing tasks, your staff can reduce AP workload significantly and focus their time on more strategic tasks. Plus, with automation you don't have to employ more people to manage AP if your business is scaling, so it saves money as much as time.
2. Improved efficiency and accuracy
Automated AP solutions can reduce the risk of errors and mistakes that often occur in manual data processing. With the help of AI, data that enters into the system is more accurate and the whole processing is much faster.
3. Better visibility and control over spending
By having all of your accounts payable data in one place, you can easily track and monitor your spending. Having the real-time overview can help to identify areas where you may be overspending and make adjustments accordingly.
4. Reduced risk of errors and fraud
AP automation reduces the risks of errors, fraud and double payments of invoices. Most of the AP solutions available on the market conduct a 3-way matching between the invoices, purchase orders and delivery receipts, which eliminates the possibility of double invoicing or fraud.
Better audit, tax compliance, increased employee satisfaction, better vendor relationships, improved decision making… And the list of AP automation benefits goes on and on. If you want to get more details about all the perks of automating your AP process, also check out our dedicated AP benefits article.
The ROI Of AP Automation
Going digital with accounts payable has many hidden monetary rewards that businesses may not realize right away. Automating AP can yield a good return on investment due to the benefits of eliminating manual labor, decreasing errors, and increasing efficiency. All this combined can quickly add up to significant savings.
Managing AP in traditional, manual way is becoming outdated as more companies are recognizing the necessity of instantly accessing invoices and other financial documents online. Indeed, time is money and faster invoice processing can save you a lot. To get approximate idea on how much you can save by automating AP process, check out our cost savings calculator here.
Best Practices Of Implementing AP automation
If you're just starting or thinking of implementing AP automation, here are the best practices to keep in mind:
1) Understand your current process
To make the best out of AP automation, it is important to first have a comprehensive understanding of your current process and some ideas of how it can be improved.
2) Involve all relevant stakeholders
Best practice is to bring your entire AP team onboard when you decide to implement automated solution. This will help to ensure that everyone understands a new system and it can make a transition smoother for your employees.
3) Test and evaluate
Before rolling out your new accounts payable automation system, it should be tested and evaluated internally to check if everything works as expected. If any issues occur, they should be addressed as part of your implementation process.
4) Train your team
Devote time to educate and train your team on how to use a new software. Remember that every change is stressful, so it will probably take some time to adjust and learn. Just be patient and make sure that your team has a clear understanding of all the benefits.
AP Automation FAQ
How to select an AP automation software?
The first step is to evaluate your options in AP automation software. It's important to understand the different features that these solutions offer so that you can choose one that best meets your business needs. Start by considering how automated AP fits into the larger financial picture for your organization, as well as what kind of reporting capabilities are available for tracking accounting performance. You want something secure, reliable and cost-effective, so don't forget to factor those aspects into the decision-making process.
Can AP automation integrate with other systems like ERP, CRM and accounting software?
Absolutely, AP automation software can assimilate with other applications, and it's very commonly used with different ERPs. This integration ensures that data is aligned across all systems while streamlining the AP process to effortlessly coordinate with other corporate operations. To learn more about DOKKA's integrations with major ERP's, check out our integrations site.
How can AP automation improve accuracy?
AP automation can dramatically boost the accuracy of your invoice processing by eliminating manual data entry, automating the matching process, and expediting approval routing. Additionally, automated systems are a sure-fire way to reduce human error, like mistakenly entering numbers or misreading invoices.
Can AP automation be used for international payments?
Yes, most of AP automation software has been designed with features that are suited for international payments. Many systems come with built-in support for multiple currencies, and also make it easy to handle the complexities of foreign currency exchange rates as well as compliance requirements in other countries.
Can AP automation be used to manage employee expense reimbursements?
Yes, from receiving and processing expenses, approving them, and finally reimbursing employees through this one system – it's all possible! Plus, you can use some of these systems for managing staff data as well as maintaining records about each reimbursement made.
Can AP automation be used to comply with tax regulations?
Yes, AP automation software can be used to comply with tax regulations. Some systems have built-in features that can help businesses to comply with local, state, and federal tax regulations, like sales tax calculation, withholding tax calculation and compliance with tax reporting requirements. Additionally, some systems can also be used to maintain a record of tax payments and compliance.
How does AP automation handle invoice disputes?
AP automation software provides a variety of dispute resolution methods, including the ability to open dispute cases and assign them to relevant staff for issue management. Communication tools enable swift and secure exchanges of information, and some systems also provide tracking capabilities on disputes as well as reports that can detail how each one was resolved.
Can AP automation be customized to fit specific business needs?
Yes, many AP automation software solutions can be customized to fit specific business needs. This can include customizing workflows, integrating with other systems, and creating custom reports. Some systems also offer the ability for businesses to add their own custom fields, forms and validation rules to the software.
How easy is it to implement AP automation?
The ease of implementation of AP automation can vary depending on the software solution and the specific needs of the business. Some solutions like DOKKA are designed to be easily implemented and require minimal setup, while others may require more complex configurations and integrations. Many software providers offer implementation services, including data migration, training, and support to help businesses get set up and running quickly.