DOKKA today announced sticky notes and tagging, a significant new workflow feature to their bookkeeping platform.
The new feature will allow non-financial people who are connected to the DOKKA platform to do 2 things on documentation:
Add notes to the documentation
Add tags to the documentation
Previously, both these features were only available to bookkeeper profiles on the DOKKA platform.
This meant that when a non-financial user (either internally in a business, or a client of an accounting / bookkeeping company) submitted a document, they could view the document but couldn't write notes on the document or add tags to the document.
These features have been used extensively by bookkeepers and accountants for their own use, and to liaise with colleagues (where their colleagues had bookkeeper profiles).
However, both the bookkeepers / accountants as well as the non-financial users have requested that we extend both these features to non-bookkeeper profiles.
Lets explore more about what these 2 features are and some ideas for how non-financial users of the DOKKA platform can benefit from them.
Adding Notes to Documentation
In the old days, when people were still using pen and paper, when they wanted to let someone else know something about a document, there were 2 ways they could do this:
Write a note on the document
Add a sticky note to the document
Many users preferred sticky notes – the only downside was that sticky notes could come off.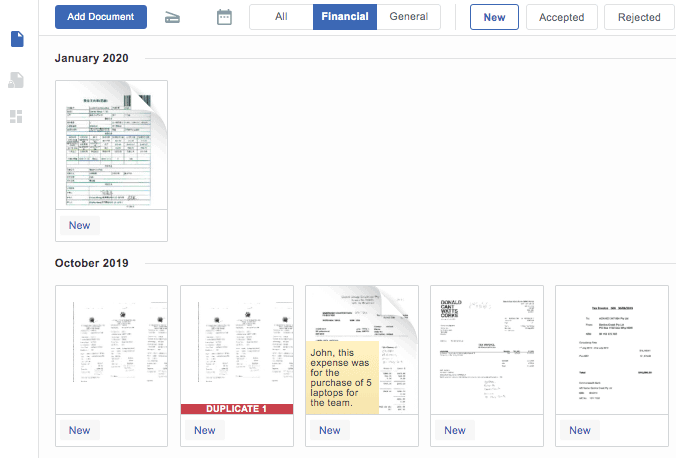 Now with digital sticky notes, you can add a note to any document, and it can be viewed by other users in the DOKKA platform.
And best of all – your sticky note will be stuck fast – it won't come off!
Here are some ideas of how to use it:
If you want to give information to the bookkeepers about the document, such as what it was for, if there was a problem with information on the document, or where the information should be categorized to.
If you want to ask a question about the document, such as should it be sent in the first place to the bookkeeper.
Remember that the DOKKA search works similar to google-style searching, so if you write a sticky note on a document, everyone will be able to find the document immediately using any of the words you've used on the sticky note.
Which brings us to reason 3.
3. You can use sticky notes to create references. For example you can write a month on the sticky note, or a name or a reference number, and when you search, you'll be able to find these documents quickly.
That brings us to document tagging.
Adding tags to documentation
A more efficient way of sorting documents and creating groups of documents is by using tags.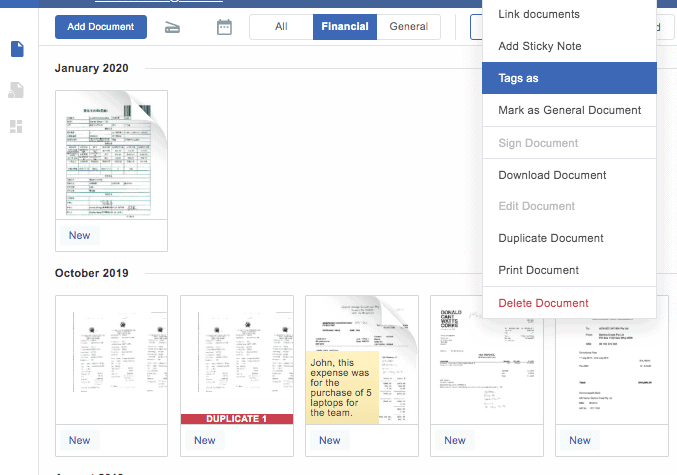 As we've already discussed, DOKKA will read every word on the document and it is instantly available for searching the same way that google reads a webpage, and then indexes every word on that web page.
But often you'll want to tag the documents with additional information, such as a reference number or date or other specific word so that you can find it later. And if you do this across multiple documents, you'll be able to find all these documents with a simple search.
So tagging documents allows additional power when searching.
Bonus tip – creating virtual folders from your document notes and tags
If you're not aware of this feature in DOKKA, you should be – the ability to create virtual folders out of any search, general or tags.
In the "old way" of creating folders using your computer, or dropbox or google drive, you'd create a folder, and then move documents into it.
With DOKKA, we've approached the folder system very differently – by creating virtual folders.
What this means is that documents can sit in multiple folders at the same time. Lets say your document is tagged with "Feb2020" and "auditor". By creating 2 virtual folders, one with documents with the tag "Feb2020" and another virtual folder looking for tags with "auditor", the same document will appear in both folders.
Smart, isn't it!
Keep in mind that virtual folders are also flexible and can be setup to look for general words (words on the documents, or words that appear on the sticky notes or linkedin documents), or for tagged words.
So you can create virtual folders that are very specific, and are only looking for tags that have been added to the documents.
Collaboration between non-financial people and bookkeepers
So previously if the non-financial people using DOKKA wanted to discuss an issue with the bookkeeper, they would use the chat feature, but now they have the option to write sticky notes on the documents after they submit.
And they now have the ability to create tags, and once they've done this to create virtual folders using these tags.
Enjoy using these new features, let us know how you find them, and remember that DOKKA is continuously improving it's platform, so keep sending feedback through to our customer success team on what additions you want to the DOKKA platform.