Expense Line Items!
Here's the next big thing for the QuickBook Online user. Until now items were just logged into the General Ledger. Now there's another option: you can track expense line items as product or service items. This will make getting your invoices entered, recorded, and reconciled even easier! For more information, schedule a demo with one of our reps.
More Sticky Notes!
Sticky notes are an essential part of bookkeeping. This has been true since they were invented in 1977. Even hi-tech apps are recreating digital sticky notes all that you can leave all over your screen.
DOKKA's Sticky Notes used to be internal to DOKKA, and now are imported into accounting software and Excel reports. They are also available form within the document view! You used to just see them in the Workspace, like this:
But now you can also see them in the document view, by clicking on the yellow tab on the left.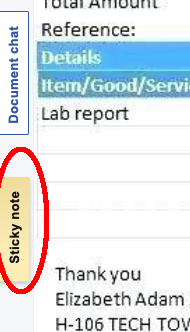 It's like pulling the sticky note off of the folder and keeping it on your desk while you use the document.
And, finally for this blog post…
More Drag-N-Drop Fun
Some fields are drop-able and some are not. We're making more fields open to receiving dropped data. This makes everything faster and smarter. Now, when you drag data, the fields open to receive the data will highlighted, making it easier to decide where to drop the data.
That's the news for now. Stay tuned for more new features with the new season!
If you're a bookkeeper or accountant in our partner program, then speak to your DOKKA account manager today, so they can demo how to use these new features.