One of the most important advantages available to modern businesses is the ability to digitize the majority of vital operational functions. These functions are usually the administrative processes that, although completed behind the scenes, remain vital to said business's fiscal health. And yes, we're talking about the accounts department. 
So, the point of digitizing this side of a business's crucial structure is simply to get it running smoother, with better collaboration between professionals in the team, and to reduce human error, time wastage, and negative environmental impact.
So, to take all of these ideas to a more micro level, let's chat about electronic invoicing, or e-invoicing, and the advantages it can bring to an organization.
What is e-invoicing and how does it work?
E-invoicing is billing presented to a buyer of goods or services, in an entirely digitized format. So, simply put, an e-invoice is a bill that comes to your accounts payable department, via email, or via your enterprise resource planning software, or ERP.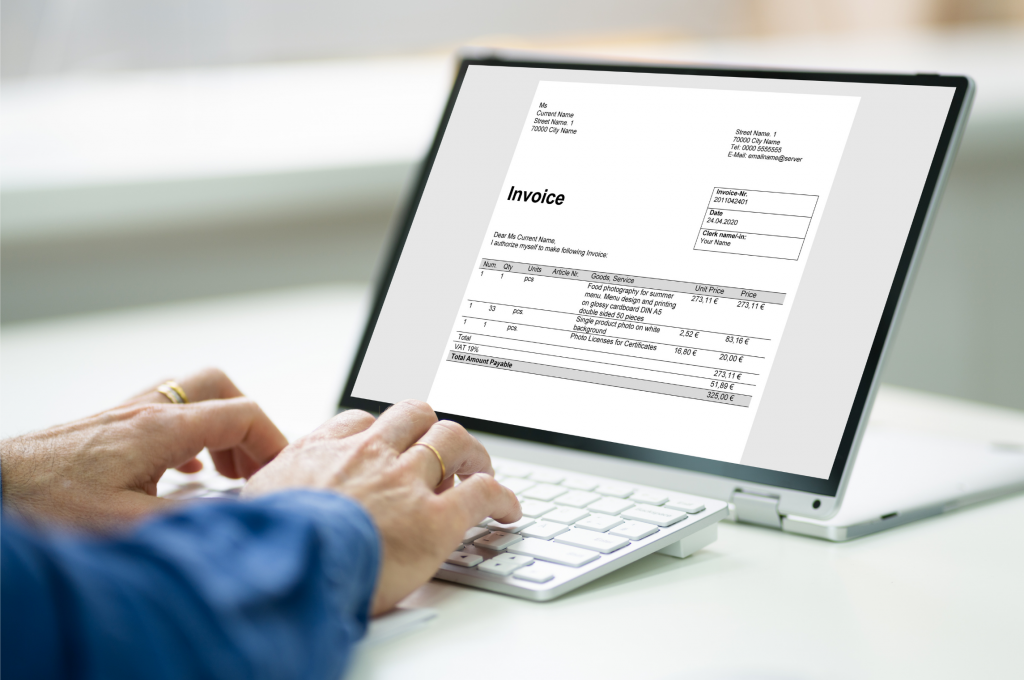 When coupled with an accounting automation software like DOKKA, these invoices are cataloged by the system for processing by your accounts department, all on a single dashboard, where collaboration is quick and simple for all stakeholders that need access to these invoices, and for better storage and recall in the cloud. This kind of advanced invoice management adds a level of efficiency to the accounts payable function.
There are many benefits to using e-invoicing
The benefit is firstly in the removal of that paper element that always becomes so overwhelming when it comes to bill processing. E-invoicing entirely negates the need for a paper trail – a paper trail that usually just means reams of invoices piling up on the desks of your accounting professional. Secondly, the benefit is in the removal of manual data entry when it comes to processing those invoices. This saves money because the human error which can be very costly is significantly reduced. And it saves time because as the system automatically processes invoices, your accounting professionals are freed up to tackle more creative and strategic money elements for your business.
Implementing e-invoicing can be daunting, but we can help you get started
As we mentioned, DOKKA is an accounting automation software that integrates seamlessly with your existing ERP. So even though digitizing your accounting workflow can seem daunting, it's only by doing so that your business can stay structurally efficient in a world that demands more accuracy in accounting.
DOKKA syncs effortlessly, and once integrated, you get a host of features for a better accounting process, like:
1. Upload documents easily
And there are a number of ways, depending on your preference:
Drag and drop
Any digital format will do, simply move files as you need.
Scan
Scan documents directly to the system.
Email
DOKKA's smart AI automatically captures attachments in emails and files them to the system, where they're extracted and added to the workspace.
Photo
In our easy-to-use mobile app, take a photo of your document and upload it directly to your dashboard. 
2. Get better with big data
Insight and data are automatically captured by DOKKA through AI learning that recognizes information according to your business's processes:
Approve and send
All data from uploaded documents is automatically extracted, captured, and added to a digital template. All you need to do is approve and send.
Drag and drop, copy and paste
If the information that is populated is not correct, you can drag and drop, or copy and paste data to the right fields. 
Duplication prevention
DOKKA's intuitive learning means that every duplicate document on the system will be quickly identified – a warning of any duplicates will be sent to you or your accountant as an alert.
3. A digital archive in the cloud
This is the peak of invoicing solutions – document storage and management that's entirely digitized:
The cloud
Store data, retrieve documents, and access account information anywhere, anytime with secure cloud storage capabilities.
Virtual folders
Create virtual folders to arrange and manage files, and for lightning-quick retrieval of data.
Document tags
Assign digital labels and tags to files and documents for better and more effective accounting.
4. Manage pages
Combine, edit and organize pages and files, all in the cloud:
Combine
Merge pages, use digital paper clips, or cluster pages under one transaction – just like in hard copy, only now at the click of a mouse button, and at the preservation of countless forests.
Edit
Split your documents into single pages.
Organize
Add files, remove pages, and sort documents – no more printing, paper wastage, or manual data entry needed.
Export
Download and export files when needed.
5. Smart search functionality
Just like searching a filing cabinet, only quicker and smarter:
Search bar
In the search bar, type a single word related to the document, and DOKKA's smart, all-knowing search function will find the information you need.
Date filter
Use any of the various date filters in our smart data retrieval functions.
The bottom line – e-invoicing is a great way to improve your accounts payable function
There you have it – the 'why' and the 'how' of taking your business's accounts payable function into the future. With DOKKA, the transition is quick, easy, and effective – from invoice prep to cataloging, stakeholder collaboration, and highly accurate invoice storage, your accounting department will fast become the streamlined machine it should always be.
See how DOKKA can give your business accounting automation superpowers